Notice
: Undefined property: Joomla\CMS\Categories\CategoryNode::$catslug in
/home/y101fmcpanel/public_html/plugins/content/socialbuttons/socialbuttons.php
on line
63
Notice
: Undefined property: Joomla\CMS\Categories\CategoryNode::$introtext in
/home/y101fmcpanel/public_html/plugins/content/rokcomments/rokcomments.php
on line
71
The new digital wallet, Android Pay from Google, allows its users to make payments for purchases in selected stores using their mobile phones.
A 360-degree spherical video feature was introduced by Facebook which allows users to watch the latest "Star Wars: The Force Awakens" trailer in a very cool way.
Nokia Technologies is returning to the market with a focus on virtual reality content creation instead of cellular phones which made them famous.
Snapchat is a mobile application that enables users to send snaps privately or to their own story (or feed).
On July 29, Microsoft released their new operating system, the Windows 10. Yes, they skipped Windows 9 for some reason. But the point here is, you can finally upgrade your PC and say goodbye to whatever old OS you have.
The long wait is over for the Apple iPhone fans all over the world.
Everyone loves technology and gadgets. It is not just a want but it is also a need for us. It helps us in so many ways especially if you are a busy person.
The first personal digital assistant who works for PC and Windows phone, Cortana will now also be available to Android and iOS devices.
All our complaints regarding the traffic seem endless.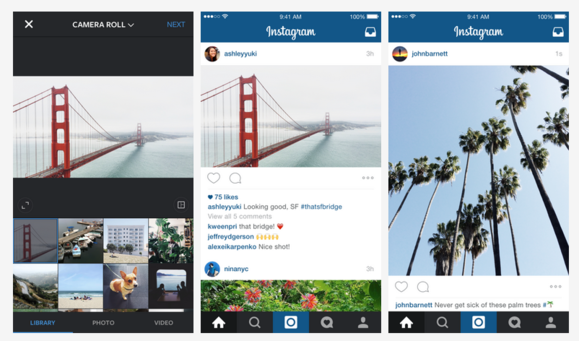 For all the Instgrammers out there, worrying about cropping your pictures or "instasizing" won't be a problem anymore because Instagram now supports landscape and portrait photos.
If you are a hardworking son of a bleepbloop, and is always multi-tasking to save some of your precious time, you might need something that can help you work through your hectic schedule.
Everyone has been waiting for the newest Android operating system, the Android M. Google did not announce what the "M" stood for but on August 17, the company finally declared that the "M" stands for Marshmallow.
Throw away your baby's old pacifier because the newest baby toy is here.